Reverso wood-plastic composite decking boards are not only our most popular, but also the longest represented product. We have been working with wood-plastic composite boards in Latvia since 2006, it is already a recognizable and well-known product. The mix of Reverso boards includes all the necessary components to be suitable for our climate, not fade in the sun, and at the same time mechanically strong. Composite decking boards have been tested for close to 10 years standing in open nature, and the color has practically not changed while maintaining intense tones. The entire mass of the board is colored with pigment, so that spots or a different color will not appear in places where there will be increased mechanical load or the flow of people. In particular, the Reverso board has been preferred by hundreds of customers in Latvia.
Reverso boards have two surfaces that differ in pattern, hence the name. On one side, due to the terrace, it has a traditional pattern and fine grooves, while on the other side, the surface consists of rarer but larger grooves. The depth of the grooves is the same on both sides, and both sides are ground, giving them excellent anti-slip properties. The use of both sides is a matter of taste, over several years customers have chosen to use both sides, approximately, in equal numbers. Walking on Reverso composite boards with bare feet gives a pleasant feeling, equivalent to walking on a wooden terrace.
Reverso boards are very easy to care for, they need to be washed a few times a year with clean water, most simply with a jet from a high-pressure washer. It is important to remember that these boards, although harder than wood, are a relatively soft material. If the surface is damaged, it can be polished with an abrasive material.
The boards are available in four colors and two lengths – 3.6 and 2.4 meters. Reverso boards are available in stock at any time by prior agreement on the arrival time, delivery is possible during the day.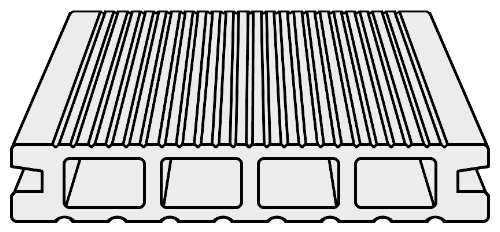 Parametres
Testing standard
Measurement unit
Value
Ultimate bending strength
LVS EN 310:2001
MPa
>15
Ultimate flexural strength after being subjected to cyclic conditions
LVS EN 310:2001
EN 321:2002
MPa
>14
Flexural modulus of elasticity
LVS EN 310:2001
MPa
>2500
Density
EN ISO 1183-3
g/cm3
1,2
Coefficient of thermal expansion
EN ISO 11359-2
1/K
< 4x10-5
Impact viscosity (Charpy)
ASTMD 256M
kJ/m2
5,1
Hardness (Vicker)
–
MPa
98
Abrasion resistance
Taber, 1kg
g/1000r
42
Fire resistance
LVS EN 13501-1+A1
Class
Efl
Swelling in thickness (28 days in water)
LVS EN 317:2000
%
<5
Water absorption (28 days in water)
LVS CEN/TS
15534-1:2007p.8.3.
%
<11
Covering molding
2000 × 54 × 10
Caramel
SS22
Cocoa
SS23
Chocolate
SS24
Onyx
SS26
Corner profile*
2700 × 60 × 60
Caramel
LS22
Cocoa
LS23
Chocolate
LS24
Onyx
LS26
Support lag
2000 × 50 × 30
Not determined
K020
Board end caps*

135 × 25

10 pieces in the package

Caramel
A102
Cocoa
A103
Chocolate
A104
Onyx
A106
Set of plastic fasteners with screws
100 + 100 gab.
Black
A201
Brown
A211
Set of metal fasteners with screws
100 + 100 pc.
Stainless steel
A202
First board mounting kit with screws
20 + 20 pc.
Stainless steel
A203
Plastic fasteners
1000 pc.
Black
A901
Brown
A911
Metal fasteners
1000 gab.
Stainless steel
A902
Metal fasteners of the first board
100 gab.
Stainless steel
A903
Screws for plastic fasteners
1000 gab.
Stainless steel
A904
Painted stainless steel*
A912
A913
A914
A916
Screws for metal fasteners
1000 pc.
Stainless steel
A905
* Items are available by order only