Singlo wood-plastic composite decking boards are very similar in nature to the Reverso boards and have all the same benefits. Also in terms of composition, the Singlo boards are made of the same compound as the Reverso and the geometry of the chambers is similar. The main difference is the size, 115x19mm, as well as the available length – 2.2 meters. Singlo boards also have both sides to use, one side has the traditional pattern of decking boards with fine grooves, and the other side is smooth, sanded composite without grooves. Due to the reduced height, Singlo boards can only be used together with metal fasteners.
Singlo boards are the most affordable of all products in our range. These boards, however, require more frequent use of mounting screws, so they are perfect for small areas, such as balconies.
Singlo boards are available in three colors, however they may not be in stock immediately. For more precise information, please contact the company representative.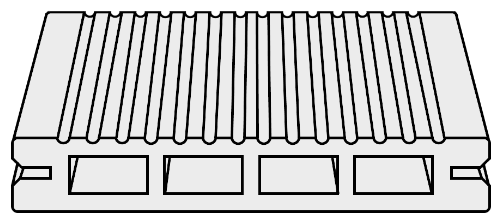 Covering molding
2000 × 54 × 10
Cocoa
SS23
Chocolate
SS24
Onyx
SS26
Corner profile*
2700 × 60 × 60
Cocoa
LS23
Chocolate
LS24
Onyx
LS26
Support lag
2000 × 50 × 30
Not determined
K020
Set of metal fasteners with screws
100 + 100 pc.
Stainless steel
A202
First board mounting kit with screws
20 + 20 pc.
Stainless steel
A203
Metal fasteners
1000 pc.
Stainless steel
A902
Metal fasteners of the first board
100 pc.
Stainless steel
A903
Screws for plastic fasteners
1000 pc.
Stainless steel
A904
Painted stainless steel*
A913
A914
A916
Screws for metal fasteners
1000 pc.
Stainless steel
A905
* Items are available by order only